President
ORDER OF SONS OF ITALY IN AMERICA
Central Bucks / Benjamin J. Ventresca Lodge 2271


Gina Toth Becker
Vice President
Regina Creedon
Past President
Michael Toth Jr.
Orator
Fred Prozzillo
Financial Secretary
Recording Secretary
Bernadette Prozzillo
Trustees
Rick Fulginiti
Treasurer
Michael Creedon Sr.
Matthew Hallowell
Sandra Panuccio
Guard
Anthony Brescia
Historian
Editor
Michael Nastasi
Marie Brescia
Mistress of Ceremony
Virginia Yencha
CALENDAR
Carole Toth
mhbresc1@verizon.net
215-348-9598
Marie Brescia
James Stabilito

.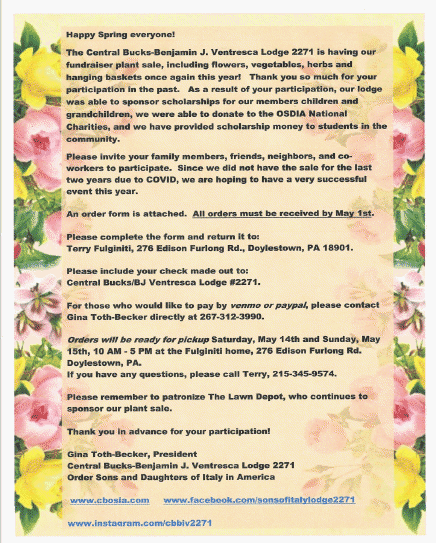 BACK TO SCHOOL
It's that time of year again when schools and colleges are ready to welcome all ages back into their rooms. We wish another successful year as you fulfill all your hopes and dreams for the future. It is our wish that the atmosphere in the world does not deter their dreams. All of us must support them and let them know that we care. Think back on your school days and be sure to always remember everyone who led you to where you are now. Many sacrifices were made on your behalf by those who loved you. Now it's your turn.
SEP. 15 - Membership Meeting - Angelo's 1 P.M. - 4 P.M.
OCT. 13 - COLUMBUS DAY PARADE
OCT. 19 - Pasta Fagiola Dinner - American Legion Hall - 1 p.m. - 4 P.M.
NOV. 17 - Deceased Members Mass - St. Jude Church - 12 P.M.
SEPTEMBER MEETING
Our September Membership Meeting will be held on Sunday, September 15th at Angelo's Italian Kitchen, 1144 Horsham Road, Ambler (Horsham) located across from the WAWA, east of the intersection of Horsham Rd. / Limekiln Pike (Rt. 152). The menu is included in this month's Newsletter. Orders will be your choice that day, but we would like to know how many of you will be coming. Please call Carole Toth at 267-222-8252 by September 11th.